Download The Oldies108 app FREE to your Android phone, memory music in your pocket 24/7.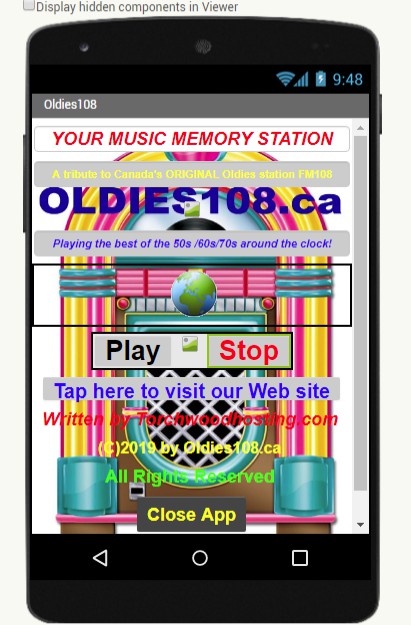 This is the story of one of the greatest radio stations of all time. Long before oldies radio became commonplace, CING-FM in Burlington, Ont., had the art mastered. Beginning in 1978 under programmer Glen Darling, and continuing in the '80s and early '90s under the legendary Norman B., FM 108 played oldies when no one else in the Golden Horseshoe dared. The FM 108 era was a special time both for those who worked there and the loyal band of listeners who tuned in. This is the story of FM 108, Golden Great.
The mid-seventies were a time of radical change in radio. The 50,000 watt AM powerhouses that had dominated the scene for so long were being pushed aside, primarily by FM. The music had changed. Gone from the charts and airwaves were the Beatles, Supremes, Temptations and many of the other great groups and artists of the '60s. Roy Orbison, Lesley Gore, the Wall of Sound, doo wop were all being forgotten by radio programmers. It was the era of disco, album rock, glitter rock and light rock. Rock 'N' Roll may not have been dead, but they were digging the grave.
Into this mix came a new FM radio station licensed to Burlington, Ont., at 107. It's call letters were CING, it's slogan Stereo 108, and its format "beautiful music" (called "elevator music" its detractors). The first song played at the new station, fittingly, was "Sing" by the Carpenters. That was as close to rock 'n' roll as CING got at the time. Most the musical fare consisted of Mantovani, the Living Strings and James Last. Good music to be sure, but not rock 'n' roll.
Change was in the offing, however. In September 1978, CING began an experiment, with oldies in the all-night period from midnight to 6 a.m. No other station - not one - in the entire Golden Horseshoe market - was playing oldies at this time. The nearest thing we had to an "oldies" station in this market was WGR 550, an excellent station, but one which watered down its oldies programming with a lot of current and recent stuff.
The first regular oldies announcer on FM 108 was Dave Terryberry, the all-night man. Later that fall, the format was expanded to include the late evening period (10:30 p.m.-Midnight) with host and program director Glenn Darling. His show sounded like something out of the '60s with his own booming voice, combined with an echo chamber effect, and of course great '50s and '60s music. The music sounded so good after NOT being heard anywhere on radio for years. And so the oldies era began at FM 108.
As the years went by, more and more people discovered FM 108 and the great oldies. Promotion was mostly word-of-mouth, people almost whispering to each other ("hey, have you heard that great oldies station on FM?"). Slowly, the listening audience grew (though never much past a very hard core). But, more important, a legend had started.
Throughout the many years of FM 108's oldies format, there was one man who held it all together. Sacrificing much of his own personal time, this man programmed, promoted, sold and developed FM 108, all the time battling those less visionary than himself. His name was Norman B., and without him FM 108 would not have been the legendary station it was.
Norman Blakely went on the air at FM 108 on May 1, 1979 after a long career at Ontario stations like CJIC Sault Ste. Marie, CJWA Wawa, CKBB Barrie and CHOW Welland. He was in fact returning to radio after an absence of about four years, mostly due to disenchantment with the industry.
Golden Horseshoe listeners perhaps best remembered Norm for his "Where It's At" all-night show on CKFH in 1967. He would leave a much more lasting mark at FM 108.
When he first arrived, Norm worked the evening shift at FM 108 Tuesday and Thursday nights; he would later do mornings. Norm didn't just play the hits. Hardly. He dusted off everything from rare Fats Domino to little-known doo wop to "B" sides to answer songs to outtakes to R&B to country crossover to sixties pop. If it was on vinyl, and had a rock 'n' roll feel, Norm probably played it. But only once. He rarely played a song twice, once hosting the morning show for an entire year without ever repeating a song. In short, he knew his music, he knew radio and he knew what he wanted for FM 108.
Over the years, Norman also produced such wonderful theme shows such as "Personality Profiles", "The Wax Museum", "The Late Show" and "Normanbelia." With literally thousands of hours of Norman's taped interviews with rock and pop artists to draw on, the shows were always fascinating.
In 1981, FM 108 decided to go for a 24-hour nostalgia format, the first station in Canada to do this on FM. It was divided into two parts. The Music of Your Life format - featuring favourites from '40s and early '50s - ran from 9 a.m. to 7 p.m. weekdays and featured such well-known Golden Horseshoe personalities as Earl Warren, Elwood Glover, Gil Christie and Pat Murray. The oldies format ran from 7 p.m. to 9 a.m. with Rockin' Robin in the evening, Norman B. in the morning and a variety of hosts in the all-night period. Weekends were a mixture of oldies, nostalgia, religion, jazz, reggae, religion and heritage or ethnic programming.
There were problems of course. First and foremost was the station's signal, which would boom into Scarborough in the eastern part of Metro Toronto, but was tough to pick up at times in parts of Mississauga and Etobicoke (which were CLOSER to the transmitter). The transmitter site, originally on Hamilton mountain, would eventually be moved to north Burlington but the problems persisted.
Another problem was fragmentation of the audience. Those who liked music of the Big Band era never tuned in at night. Oldies buffs generally ignored the station in the daytime. Neither tuned in on Sunday, when the format was ethnic or religion. The casual oldies fan would be turned off - and would tune out - by hearing a Rosemary Clooney song in the middle of the day. You had to know when to listen, and not everybody did. Also, having a dial position at the very end of the FM spectrum made the station a little tough to find.
The real charm of the station actually lay in its diversity. Since the oldies deejays programmed their own music, you could hear all kinds of musical styles and beats without changing the dial. Saturday afternoon announcer Bert Thombs tended toward pre-1963 stuff like doo-wop and Johnny Mathis. Weekend overnight man Julius Brown was more likely to play late '60s soft-rock artists, like the Association. Pre-dawn Saturday announcer Dave Whatmough played rare stuff of all genres that barely dented the top 60. Mark Panopoulos preferred doo-wop and straight ahead rock 'n' roll. "Wild Bill" played the pure Rock n Roll hits from the 50s & 60s and did some fun stuff with the listeners. Mark Eustace was more into album rock, and late '60s-early '70s pop, and Ritchie Yorke was there for the British invasion. Wes Atkinson covered all the bases, but with a leaning to country music of the '50s and '60s. And we can't forget the straight-ahead Top 40 offerings of Don Biefer.
All the announcers had their own style, too. Listening to Burt Thombs was like listening CHUM or WINS in the daytime circa 1958. When J.B. was on, it was more like WGR or WBUF. Eustace's programming resembled CHUM-FM, late '60s. "Wild Bill" rolled the sounds that reminded us of the late 50s and early 60s top 40 jocks. Atkinson - who HAD worked at CHUM - had a show that resembled that station's programming in the early '60s. Robin could have fit in at any of the major top 40 powerhouses of the late '60s, and Norman B. - well, Norman was Norman.
Another charm of FM 108 was the fact that it was decidedly NOT slick. It had a roughness, an unpredictability to it that set it apart from all the other stations. For most of its existence, computers didn't program the music, people did. The announcers sounded real and knew their music, not like your average Top 40 time and temperature jock. It was truly a throwback to the way radio used to be, where deejays programmed their own music and worked without a format. And, for the most part, it sounded great.
The Golden Years of FM 108 were 1978 to 1988. Many people graced the 108 airwaves during that period, and some of the shows they did were legendary.